How Load Testing Makes You a Rock Star
If you're a developer, DevOps engineer, automation engineer, performance or QA engineer, you probably know the importance of load testing your application or website. Performance testing is crucial for ensuring the changes and upgrades you made to your website and app don't have a negative effect on its ability to handle traffic spikes and heavy loads.
Sometimes, one might be tempted to postpone or ignore load testing. But doing that would be just like a band performing in front of crowd without rehearsing or even deciding on the songs! Sounds ridiculous, right? This blog post is the story of our BlazeMeter band, the BlazeBand, and how rehearsing before a performance is just like load testing our own app.
Step 1: Establishing the band (or: develop)
A good performance starts out with a player's passion for music, just like a good release starts out with a developer's passion for coding. Our band started out when one of our team members heard music coming from our building's basement, and discovered there was a recording studio down there. She discussed this with another team member who sent an email asking who would be interested to start playing together. The response was immediate and the band as established within a day.
Similarly, grooming sessions, daily stand ups, scrum team meetings and sprints inspire developers and help plan their work. Their code and commits are the building blocks of what will become a release.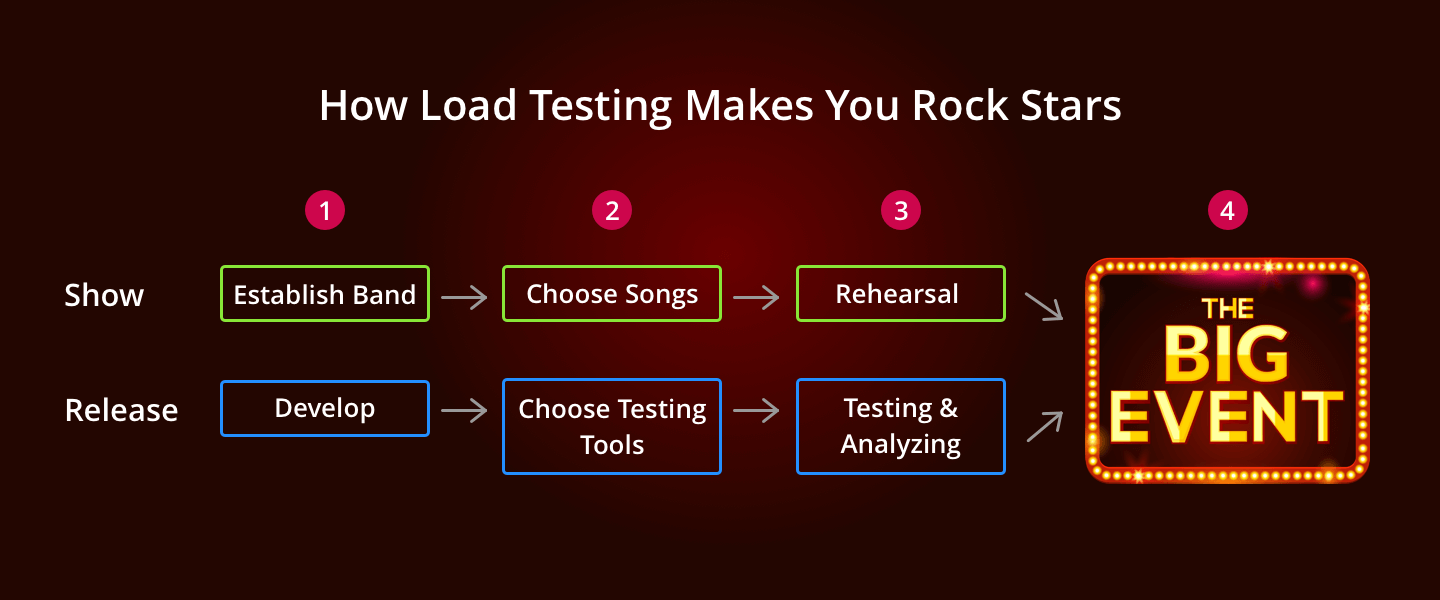 Step 2: Choosing our songs (or: the democratization of load testing)
While more legacy bands might have a centralized group of people that chooses their songs, we believe in opening up the decision making and enabling everyone to collaborate. Before a concert we send each other YouTube links to songs we might want to play on a dedicated Slack channel, and vote for our preferred songs. Choosing our own songs makes us more involved and enthusiastic about the band.
In a similar way, performance testing with open-source tools is available to everyone and you can choose which one fits you the most. You can use tools like Apache JMeter™, Gatling or Locust, which can all be automated through open-source testing framework Taurus and run through Jenkins. Unlike LoadRunner, which is operated through a small group of experts in the Center of Excellence, with open-source tools and with BlazeMeter, everyone is excellent and can load test their own code and features.
Step 3: Rehearsing and testing our instruments (or: can our system handle the load?)
After choosing our songs, we need to check and see if our instruments and voices can handle the required pitches, melodies and rhythms. We try to play and sing our chosen songs, record our band practice, listen to how we played and check where we are off-key and need to improve by tuning our instruments. We try to get better over the next band practices, which we also record and compare to previous times.
This also happens in load testing. After choosing our load testing tool, we examine if our system can handle our expected traffic spikes, test scenarios and user behavior. We analyze test results through advanced graphs and reports that, and over time we can analyze system health trends and compare reports to each other. Through test results we "tune" our system and our infrastructure, until it's perfect.
Step 4: Show time! (or: Our website or app is ready for the big day)
The big day has arrived and it's show time. Practice makes perfect, and although you can never predict what happens in real-time, you can be sure that getting ready and testing your instruments will make for a good performance. At any case, our two performances for BlazeMeter were. Our instruments were tuned, our voices pitch perfect and the lineup was pre-organized and perfect.
Similarly, on your big day - be it Black Friday, starting a ticket sale on your website or releasing a major upgrade - load testing makes perfect. Planning tests, running them, analyzing the results and fixing issues ensures your servers don't break, memory doesn't leak and your app doesn't crash. Just like you happy crowd, load testing makes sure your customers can always access your services on the day of the event itself.
Finally, just like Continuous Integration, we still meet and practice so we're always pretty ready for our next performance.
Making your band a team
While the BlazeBand was meant to be for fun, it actually got us to improve our work connections as well. For example, Lior, our frontend developer and bass player, works a lot with Hai, our UX designer and drum player. The bass and drums are the heart of the band, and their joint rhythm needs to be perfect. The same is true for the development process - the frontend and the UX need to be in perfect coordination, so the product is pixel perfect. Thanks to the rehearsals, which they sometimes conducted when taking a break from development, their work on our product was more creative.
Guy, our support engineer and acoustic guitar player, came to speak to Eliran, our automation engineer and singer, about tickets he needed solved. The performances also got the rest of the company engaged to our workplace, and the dancing and drinking made everyone happy and feeling more connected to each other.
Similarly, it's important that your whole team is committed to working together before big events, and that it is engaged in the development and testing process. You don't have to start a company band, but having fun together is always a good way to create enthusiasm and a commitment.
Now let's sing the load testing song together:
Every day I find myself in a mess
Run all the tests and hope for the best
Wo ooo ho ho
Here's another feature at last
Late at night, I'm fixing the code
Might as well, decrease the load
Wo ooo ho ho
Here's another feature at least
All night long, keep pulling my hair
All night long not leaving the chair
All night long, who can give me a hand
*The servers are crashing
I'm about to lose my mind
I think it's time to leave all behind
Wo ooo ho ho
Here's another feature at last
Oh mama dear, please give me some hugs
My QA found 20 more bugs
Wo ooo ho ho
Here's another feature at last
Here is a recording of our latest show in Tel Aviv - we had a blast:

Check out our lead singer, Eliran Shani, and his talk at Jenkins Israel on July 13, 2017.
Easily learn how to load test with BlazeMeter by requesting a demo or putting your URL or JMX file in the box below, and your test will start in minutes.