Getting Started with Workspaces in BlazeMeter
What are Workspaces in BlazeMeter?
Workspaces are virtual enclosed surroundings for assets. You can collaborate on tests, reports, projects, as well as share alerts and APM credentials within a workspace but not outside of it. This means if multiple teams share one workspace, they will also share all this information.
Users/teams can be part of multiple workspaces if needed. There is no limitation of X workspace per user. Account owners might be team or segment leads that are involved with projects that require multiple teams to execute testing. The account owner will need to make a decision, whether he wants to allocate a workspace per App, Line of Business, Agile team etc. We allow that flexibility, but the asset sharing within the workspace should be a factor taken into consideration when planning the account structure.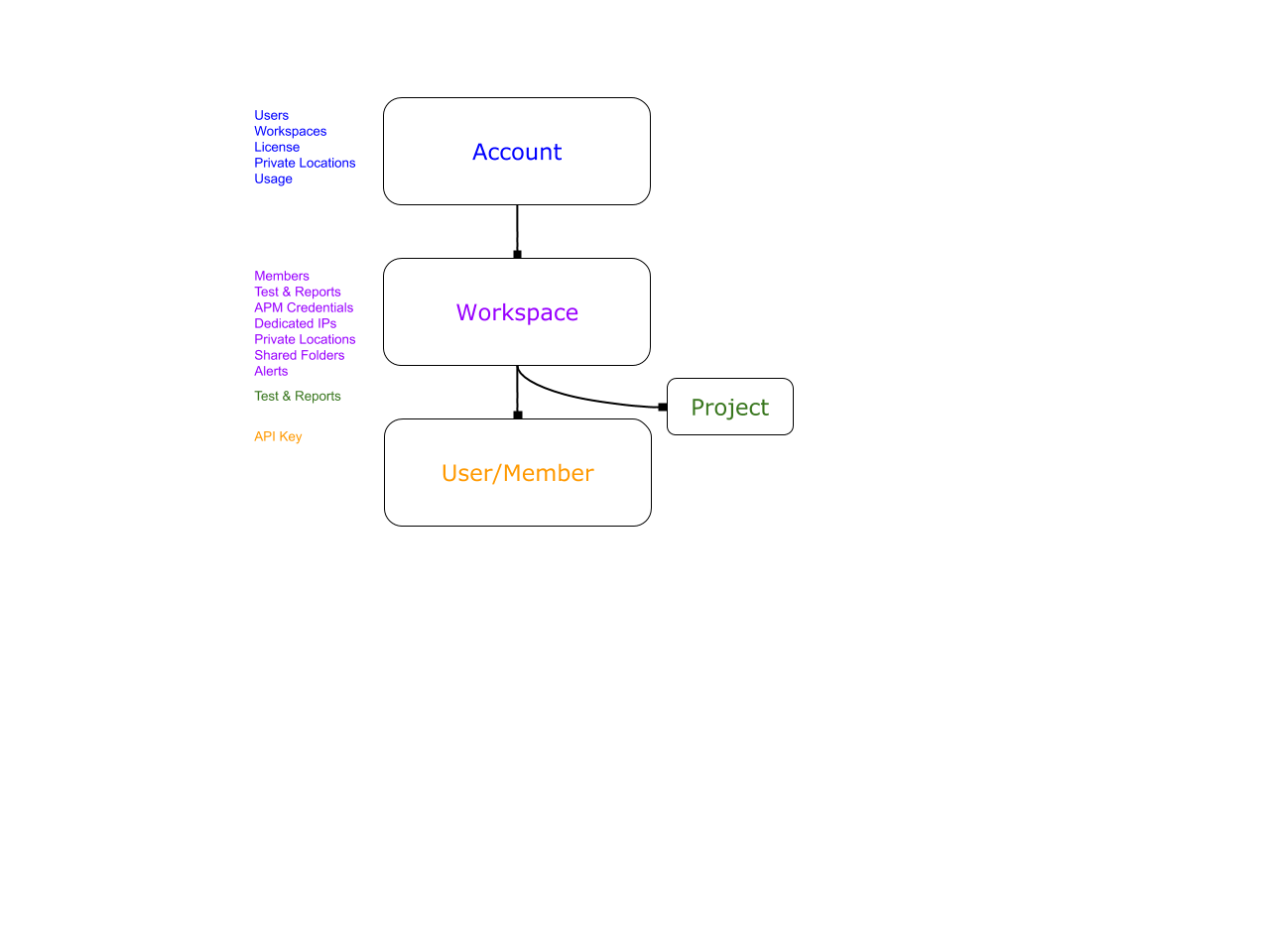 It doesn't mean that reports cannot be shared outside of the workspace at all, as we do have a feature to enable sharing reports for external stakeholders.
Admins can also enforce access management and the level of transparency that its members are comfortable with for each workspace, limiting assets to within certain workspaces, to keep them secure. This is a feature which is especially important for enterprise companies, which have many teams and workspaces enabled in BlazeMeter, and are embracing Continuous Testing, with many teams running tests at the same time.
Mock Services are also shared within workspaces, so using the same mock service in several workspaces might require additional work for your engineering team to set up the mock services for each workspace. A Mock Service is a collection of transactions and an endpoint, so anyone that knows the endpoint and the right calls to make can use the mock service, regardless of workspace ownership.
What are the permission levels in a workspace?
Manager - Has full access to all tests and reports, and has the permissions to manage users within the workspace, including all of its members, even if they are working in different scrum teams.
Tester - Has full access to all tests and reports, but can only manage tests, test assets, reports and projects. No user management permissions at all.
'Viewer' - Has 'view only' access to all tests and reports, without the ability to change anything or access to the raw data, scripts, data files and logs.
Working with private locations in BlazeMeter workspaces
Private locations are the on-premise solution we offer users who need to test applications or create and use mock services behind a firewall. With Private Locations, all you need to do is install our agent on your on-premise servers. Your on premise load generators will then send traffic to your application while sending data back to BlazeMeter, so you have full access to our real-time reporting.
Private Locations specifically, while are a workspace asset, can be used and shared across multiple workspaces. If you decide to set up a workspace per team, it will still make sense to get the teams to use the same private locations as these are usually challenging to obtain due to budget constraints etc.
What are projects in the workspace?
Projects are just like folders, they keep tests/reports in an organized fashion, not limiting usage or access to either. A member of a workspace has access to all Projects.
Want to learn more? You can read more about workspaces in BlazeMeter in our user documentation here.
You can also sign up for our newly launched BlazeMeter University, to get fully certified with using BlazeMeter, JMeter, Taurus and other solutions.