NEW! JMeter Citrix Plugin
Citrix helps businesses stay connected to the apps their employees need, no matter where they are. Everything they need is at their fingertips, saving them time and increasing productivity.
But what happens when businesses start to publish new apps onto the Citrix management console, to meet changing market needs. Will they understand the impact that these disparate apps bring to the overall user experience as teams collaborate across the business? What are the ramifications as these datacenter-hosted apps are launched directly to remote devices used across the business?
Clearly, businesses need to start testing the performance of their Citrix apps for continuous feedback and improvement. But testing for Citrix-published apps would require an expansive solution that's often limited to only specific versions of Citrix client/server. This makes testing complicated and increases heavy test cycles - until now. BlazeMeter has helped address the pain for performance testing for Citrix apps with the release of an open-source based Citrix JMeter Plugin. Learn to record & launch a Citrix app test right from your JMeter environment!
Record and Launch Tests for Citrix Applications in just 3 Steps
1. Start Blazemeter's Citrix Recorder
Start by making sure you have configured your JMeter environment to the listed prerequisites. Next make use of the Citrix Recording Template that comes readily available, to simplify your script creation process. To start a recording, simply click on the Start Recording button that will automatically launch your Citrix app. Here's what the Citrix Recorder looks like.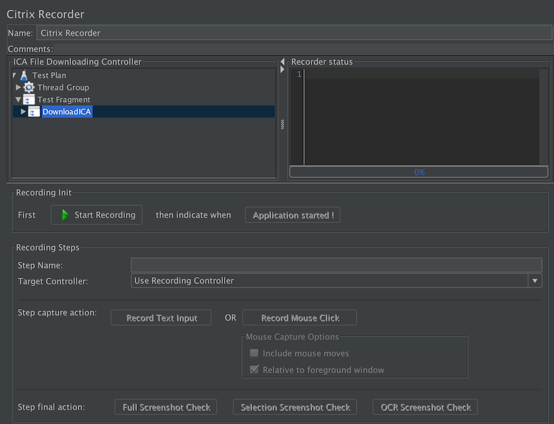 2. Record Test Steps for the Citrix App
Once your Citrix app has launched, click on the Application Started button to tell the plugin that the citrix application is ready to be used. You will see a screenshot of the Citrix app as shown in a Citrix Window, for you to record your Citrix test steps.
From this point, just record the steps you wish to test to in your Citrix Window, by making use of the Record Text Input and Record Mouse Click buttons. Every one of your recordings steps can be labeled by inserting the "Step Name" before clicking the "Record Text Input" and "Record Mouse Click" buttons.
Record Text Input allows you to record every text input on the Citrix window while the button is activated. When you are done with the text recording, just click again on the button and the associated samplers will be added in the JMeter tree and in the View Results Tree under Citrix Recorder.
Record Mouse Click records mouse clicks. It works exactly like its Record Text Input counterpart. You can click again on it to stop the capture or use one of the three others buttons mentioned previously.
When you are done with the recording, simply end the recording by clicking on the Stop Recording button. This will close your Citrix app but not the Citrix session. Your recorded samples can be found under Thread Group -> Recording Controller, where your recorded tests are saved as .xml files that's ready to execute.

3. Execute Citrix App Recorded Tests in BlazeMeter
Running the recorded tests for your Citrix app is easy. Just upload and configure your .xml files in BlazeMeter, to scale up and run multiple tests in parallel. Sign up for for free today!
It is becoming complex for Citrix customers to meet market demands where apps are changing faster and expected to run on multiple environments, to provide the quality user experience that business end users expect. Fortunately, keeping up with continuous testing obligations need not be difficult. With the BlazeMeter Continuous Testing Platform, you can shift quality left with a unified test automation platform that delivers all the capabilities you need for complete continuous testing. 100% open source compatible with an integrated, intuitive workflow that allows teams to test "as-code" or through a lightweight UI, learn more by requesting a demo today.