Don't Let the Super Bowl Take Down Your Site
Are you ready for the Super Bowl?
Sure, you have the potato chips at hand and the beers on ice...but will you need to abandon them to fix a website crash?
Here are three reasons why that just might happen:
1. Your company's ad is too good
Marketing and advertising have done an awesome job. The ad airs and visitors come flooding to your site. More visitors than you could have possibly expected.
Your website can't handle the huge volume of traffic and slows down or even crashes altogether. This exact scenario was witnessed by Coca Cola in 2013, who tried to get viewers to vote online at www.cokechase.com. But, unprepared for the huge influx of visitors, the website's average page load time was a whopping 62 seconds. As most people today expect pages to load within 2 seconds, Coca Cola suffered a huge fail.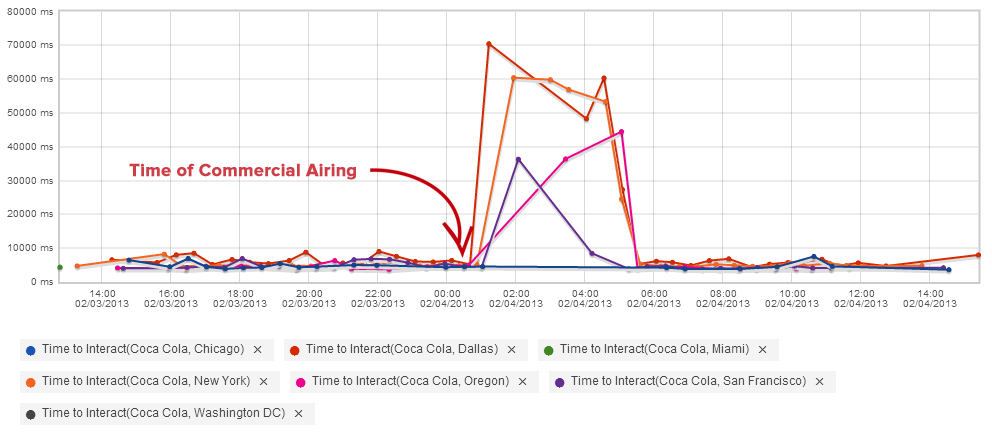 The simple solution is to always load test for more website visitors than you realistically expect (more on steps that you can take at the bottom of this article).
2. You're unprepared for heavy traffic from mobiles & tablets

Not many of us sit next to our PCs or laptops while watching the Super Bowl. When an ad comes on, we're much more likely to reach for our smartphones or tablets to check out the latest offer than drag ourselves away from the couch and nachos. As such, the amount of traffic that will come from smartphones and tablets is likely to be significantly higher than laptops and desktops.
If you haven't taken this into consideration when conducting your load testing, you could face problems. It's important to run load tests with a network emulator so you can see every scenario and check the results from different devices (and even regional locations for that matter)
3. You're live-streaming the game

As declared by Informa's Head of TV Ed Barton: "No one forgets missing the Super Bowl because their stream died."
Over-the-Top (OTT) streaming is an increasingly competitive market. As such, it's more important than ever for providers to ensure a user experience that is consistently flawless. If you're working for a company involved in live streaming, you need to make sure your load testing will prepare you for any outcome - even if you have hundreds of thousands of viewers simultaneously online.
Irdeto, a leading provider of solutions for Pay-TV operators and OTT service operators recently needed to overcome this challenge. Here are more details on how it ensured its multi-screen platform could cope with 100,000+ users at the same time.
8 Steps to Avoid Downtime During High Traffic Spikes
Fortunately, there are steps that you can take to avoid downtime and outages during peak times like the Super Bowl.
Here's a checklist of 8 steps that you should always take when running load testing to prepare for high traffic on critical days:
Don't Underestimate the Load. Try to bring your system into failure

Run Load Tests From the Production Environment

Know Your Weak Points. Find that critical resource

Know When & Why Problems Occur. Observe your application logs

Be Thorough. Divide your system and stress each section individually

Be Prepared. Set up back-up servers and locations

Don't Forget Your End Users. Incorporate end user performance testing into your backend testing

Check Your Third Party Integrations
NEED HELP PUTTING THIS PLAN INTO ACTION?
For a detailed guide on precisely how to avoid website outages, download the whitepaper "How to Ensure Your Website or Mobile App Won't Fail on Peak Days".