BEWARE: Lazy Lovers May Crash Your Site This Valentine's Day
February 14 is one month away. This gives you enough time to get your site or app ready for the influx of romantics buying gifts, cards, and even looking for love online.
But even with thorough testing, your site or app could still crash at the worst possible moment. Here are some reasons why (and ways to prevent the worst from happening):
1. Traffic Will Probably be Higher Than You Expect
Website traffic before and on Valentine's Day 2015 is likely to be higher than ever before. There are a few reasons for this:
Online Buying is on the Rise
We're either getting lazier or online stores are getting better. Either way, online shopping just keeps on increasing in popularity. This is especially true for Valentine's Day with online sales in the US & UK increasing year on year. In the UK alone, it's estimated that one in three shoppers will buy their Valentine's gifts online.
Valentine's Day is Often (Nearly!) Forgotten
Let's not forget that while you might be prepared for Feb 14, there are many, many others who aren't. With a recent study revealing that 53% of US women will dump their boyfriends if they don't get a Valentine's Day gift, it's no wonder so many are rushing to their laptops or smartphones to buy flowers and gifts at the last minute.
Mobile Shopping on Valentine's Day is Soaring
For all of the reasons listed above and more, mobile shopping is just getting more popular. A recent Yahoo study revealed that 24% of intimate apparel site traffic and 22% of jewelry site traffic came from mobile devices the week before Valentine's Day in 2012 - and reported a staggering 114% growth in mobile clicks on the Yahoo Bing Network in 2013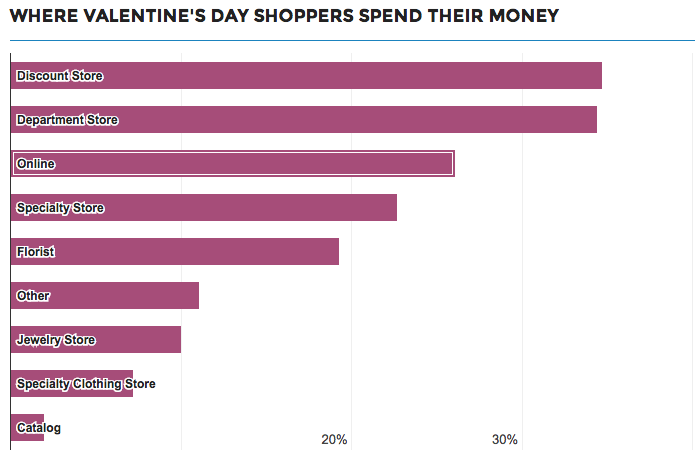 What You Can Do
I've said it before but I'm going to say it again, it's vital to make sure that you don't underestimate the traffic coming to your site. The best way to do this is to try to bring your system into failure before the big day. To do this, you need to run a sequence of tests while continually increasing the load and monitoring the hit/s throughput. Don't stop until you hit a scaling problem.
2. You Haven't Taken Location into Account
Location matters! Studies have shown huge differences in Valentine's Day spending across the globe. Rakuten LinkShare found that people in Asia spend the most on Valentine's Day, with an average of £1,731, followed by Spain (£151), France and the UK (both £119). On the opposite end of the scale, Germans spend the least - just £59 per person.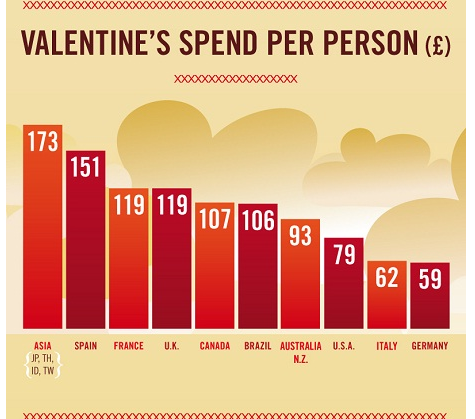 Source: Rakuten LinkShare
It's therefore reasonable to assume that, if you're a global website, you'll be getting heavier traffic loads from countries like Asia and Spain than Italy and Germany. The same is true for regional differences within the countries themselves. You have to be sure that your site or app can handle a heavy load from specific countries and regions.
What You Can Do
You need to test from different locations when preparing for traffic spikes on Valentine's Day. There are various ways to do this (with equally various levels of difficulty).
Some organizations today take their existing processes and get real people to sit at physical machines and devices from around the world to test their web or app. Fortunately, there are easier and more efficient ways than this! An easier way is to use an open source load testing tool like JMeter and buy a number of Virtual Private Servers (VPS) in various geo-locations. With this, you can test your web or app servers under heavy load from multiple locations. If you want to make it really easy, you can take a performance testing tool like BlazeMeter to simulate the load from multiple geo-locations and devices with just a few clicks.
3. You've Forgotten About Third Party Integrations, Failed to Include the Network Infrastructure in Your Testing, Overlooked the End User Performance, Didn't Identify Your Critical Points…

Ok, I cheated a bit here! The truth is, there are just too many things that you need to consider, test and resolve ahead of ANY peak traffic day for me to be able to fully cover in this blog post.
What You Can Do
We've put together a guide that covers everything you need to consider in pre-holiday testing, along with real-life scenarios and practical instructions on how to test your website or app to ensure success on the big day.
Download this free guide, How to Ensure Your Website or Mobile App Won't Fail on Peak Days, for professional advice, tips and valuable insights from performance testing experts who have been in your shoes!

Good luck and please share your comments and experiences with me here.