Be Smarter than Your Competitors this Black Friday
Every year, more than a hundred million people go shopping on Black Friday and Cyber Monday, and every year e-commerce and retail websites whose owners did not prepare for Black Friday, crash. Company websites that slow down and crash, drive buyers to competitor sites that did test their website and app for Black Friday traffic, on time. It's a no-brainer, customers will go where shopping is fun and not painful.
Now is the time to run performance tests on your website, so you are ready on time for Black Friday or Cyber Monday. By starting now and not postponing (again) to the next sprint or the next quarter, you will have time to plan your tests, run them, analyze KPIs, fix what needs fixing, run tests again and so on until your systems are ready.
Otherwise, you might find yourself scrambling to bring your website back up and taking calls from frantic managers, instead of spending time with your friends and family. Shame, when this can be easily prevented in advance.
For more info on how to run performance tests on your website for Black Friday, click here. For Black Friday load testing best practices, click here.
Here are some of the retailers who had poor website performance last year:
J.Crew's Website Crashed on Cyber Monday
Heavy traffic crashed the clothing retailer's website on Cyber Monday. This brought angry shoppers to Twitter where they made J. Crew's deficiencies even more public, and J. Crew had to extend their discounted offers.
Macy's' Website was Very Slow on Black Friday
The most critical aspect of Black Friday shopping, the purchasing, was super slow on the Macy's website on Black Friday. When a customer wants to pay, you should let them pay, not make them work hard to pay you money.
The Perfume Shop's Competitor Seized Their Lost Sales
When the Perfume Shop's website crashed, The Fragrance Shop retorted perfectly: they targeted frustrated online Perfume Shop buyers and offered them a discount at The Fragrance Shop. My guess is that The Perfume Shop lost these customers not only on Black Friday, but also in the future.
Lowe's' Website Crashed Under Black Friday Traffic
The website was down for ~30 minutes on Black Friday. Despite the relatively short time the website was unavailable to shoppers looking for deals, the glitch was advertised on numerous websites. Also, the avg. cost of downtime on Black Friday is $4,700 a minute…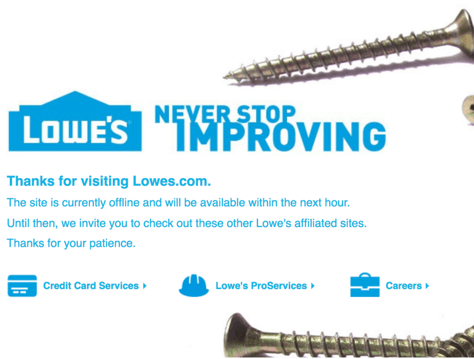 Debenhams' Website Went Down on Black Friday
The Debenhams website couldn't handle the Black Friday traffic spikes, preventing users from shopping on it. Users were directed to wait until the page refreshes, or to call helplines. This is the opposite of an agile user experience.
Takealot's Website Crashed on Black Friday
Takealot publicly apologized for being unavailable on Black Friday, despite promising eager customer great deals. "We've had a service failure with a critical piece of code which communicates with much of the site," said the CEO. This is exactly the code that can and should be load tested in advance to avoid these situations.
GAME's Website Crashed on Black Friday
Consumers were very angry they couldn't purchase tech devices from the website. And who knows their online options more than tech buyers? Looks like I will be ordering on @AmazonUK at this rate," one consumer wrote on Twitter.

What Does it Take to Be Smarter than Your Competitors on Black Friday?

It's not that hard actually.

1. Test continuously and test now

If your performance and load tests are not a part of a continuous integration and continuous deployment workflow yet, now is the time to do it. By setting up automated tests that check your code every time you release and every night, the chances of you being surprised by a totally unexpected bug or error, are slim. You can use CI tools like open source Jenkins or commercial TeamCity, both of which integrate with Apache JMeter™, Taurus and BlazeMeter.

In addition, run special performance tests now, fit for Black Friday's special circumstances. Keep reading to learn how.

2. Plan different kinds of performance tests

Black Friday is a special day, so don't assume that doing what you always do will be enough. Instead, dedicate resources for planning and running your performance tests. First of all, think of the tests you need to be running. You will probably need soak tests for examining system performance over time, spike tests to examine system performance under an immediate surge of traffic and stress tests to see how your system performs under its limit.

Stress tests are especially valuable for two reasons: extending your system's abilities beyond its current capabilities, and learning the system's weak points and how to fix them, if for some reason your website does crash on the big day.

3. Create performance scripts according to real-world scenarios

If your site is planning a huge sale, make sure you load test the requests related to those sales. Other areas of the website you should be testing include the checkout and 3rd party integrations. The best way to know what to test is to consult with Marketing and Product, as well as looking at traffic patterns from previous years, to understand where users are going.

If you need to start your script from scratch, you can use the free BlazeMeter Chrome extension.

4. Analyze analyze analyze

After running your load tests, as well as your API tests, GUI tests and so on, analyze the results. Look at KPIs like response time, error rate, assertions and CPU to get an in-depth view of how your website is doing. By running your tests multiple times you can also get insights about system performance trends.

Because Black Friday is such a big event, we recommend analyzing the results with other people - dev team mates, managers and colleagues from Product and Marketing. You can all huddle around one computer, you can print out the results or you can share results screens through SaaS testing products, like BlazeMeter. The inputs from other team members ensures you dot every i and cross every t when fixing and preparing your system.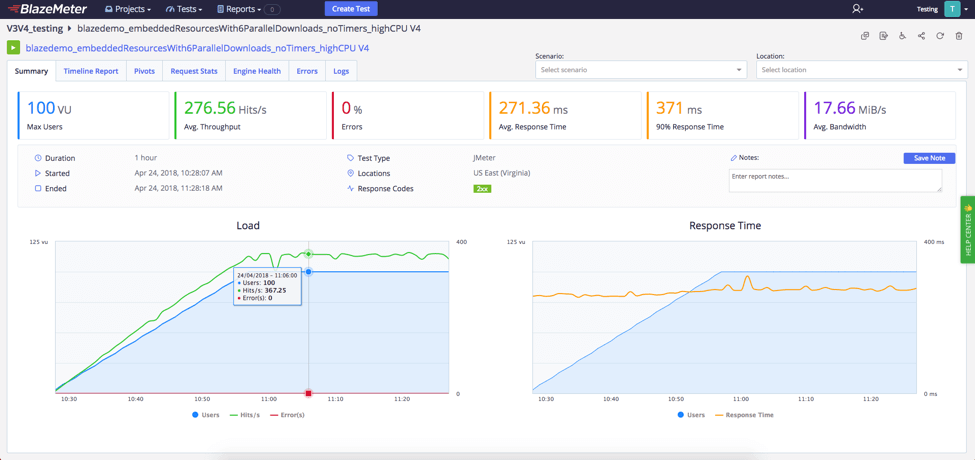 Get Your Website Ready with BlazeMeter
Request a free Black Friday demo to get your performance testing up and running. You can also join our webinar, Load Testing for Black Friday, Cyber Monday or Any Peak Traffic Period. We will show hands-on, practical ways to prepare for and execute peak readiness tests. We will demonstrate how to leverage BlazeMeter and leading APMs to run highly scalable load tests, monitor performance, and receive easy-to-analyze test results.
Try out BlazeMeter on your own by putting your URL in the box below, and your test will start in minutes.