Introducing The BlazeMeter Continuous Testing Platform
Today we are pleased to launch a set of new capabilities that will take BlazeMeter from a Continuous Testing tool to a full Continuous Testing Platform, where developers, testers and devops engineers can create and automate tests at every stage of the software delivery lifecycle.
At BlazeMeter, we want to ensure you can deliver innovation faster, and embrace digital transformation and agility at scale. This requires new tools and a new approach. With the BlazeMeter Continuous Testing Platform, you can shift quality left with a unified product that delivers all the capabilities you need for complete continuous testing, in one UI, with one log in, from a single vendor you have depended on for years for industry-leading testing capabilities.
BlazeMeter- A True Continuous Testing Platform
We are proud that BlazeMeter is considered developers' number one choice for enterprise level performance testing, supporting over 20 open source testing tools in one platform. Now we are expanding to include full continuous testing capabilities, deeply integrated into an intuitive workflow in the same BlazeMeter user interface. BlazeMeter allows your teams to work the way they want "as code" or with a lightweight UI.
So what's new?
GUI Functional Testing
With BlazeMeter you could always see how your site performs under load, but now you can see it through the users' eyes. BlazeMeter now offers full functionality to create GUI Functional Tests (either through your existing Selenium scripts or scriptless with BlazeMeter's Chrome recorder) to test your application UX, then you can run those tests under load to understand how your front end performs with heavy traffic.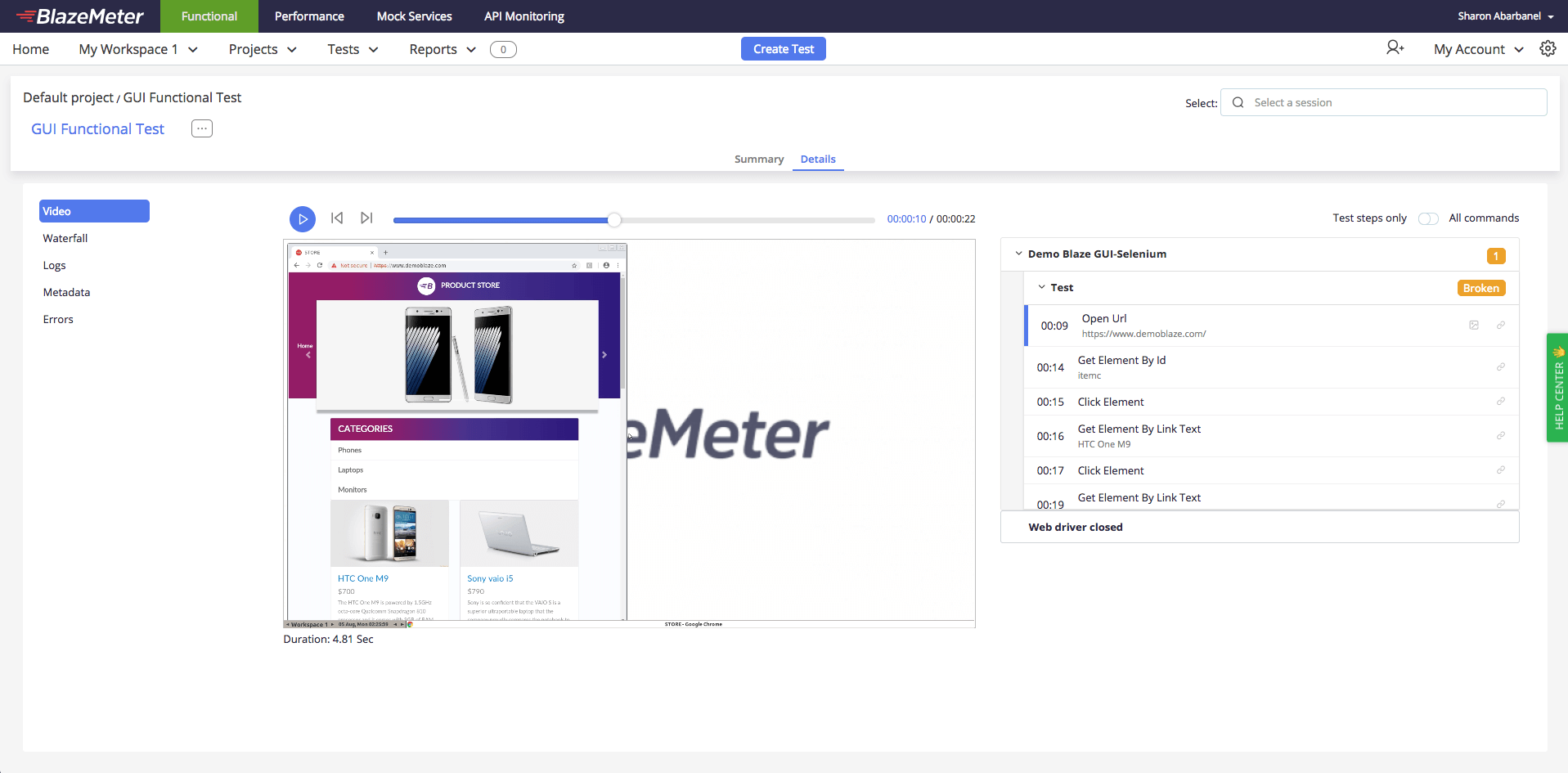 Mock Services
Part of our goal when creating BlazeMeter is to remove roadblocks to continuous testing adoption. With BlazeMeter's new Mock Services functionality, users can create mock services to run their tests, removing dependencies on external or internal resources that may not be easily available. Our Mock Services feature accommodates popular open source and developer friendly tools including WireMock and CodeSV, as well as enterprise Service Virtualization capabilities, so that developers can choose the tools that best suit their needs. Scripts can be reused and shared by different teams for optimum collaboration and minimum bottlenecks.
360° API Testing and Monitoring
As part of our unification with Runscope, BlazeMeter will now offer enhanced API Testing and Monitoring within the BlazeMeter workspace. This will give developers and testers full access to testing their applications, both pre-production and post production, for full 360 degree visibility into application performance.
Simplified Test Creation, Simplified Test Maintenance
With our new functionality we've simplified test creation and maintenance. Now you can create or record one script, and reuse it for GUI Functional, Performance and API Functional tests, within one unified platform.
With BlazeMeter your team can access all the functionality needed for your testing needs in one open source friendly, enterprise ready platform, for maximum collaboration and true shift left testing.
We will also be rolling out further features to the BlazeMeter platform in the coming months, to further enhance BlazeMeter's private cloud capabilities, and to add even more functionality to the BlazeMeter Continuous Testing platform.
To learn more, sign up here for our upcoming webinar, or request a demo.