Enabling Real Time Monitoring of APIs with Layer7 & BlazeMeter
As APIs become a more key element of customer experience, the importance of continuous API monitoring becomes more evident. Traditional API monitoring looks at API components of application infrastructure but fails to incorporate the performance of APIs for consumers, which are via your mobile application and website. Regardless of industry, we are seeing increased demand on API usage due to COVID-19. It is integral to monitor your APIs in the way your end-users experience your APIs: via digital channels.
Shift right and shift left API testing becomes incredibly important as microservices development team's handoff APIs to other teams. Creating and running API tests early on ensures that APIs are secured and perform as expected preproduction. Later on, reusing those same pre-production API tests in production ensures that teams are immediately alerted if their API is not performing as expected. These alerts enable the team to quickly take action to prevent any impact to the user experience.
Existing Layer7 API Management customers can use BlazeMeter to easily monitor their APIs in real-time and quickly learn if any issues arise. Using the cloud-based BlazeMeter API Monitoring solution, users can make real calls to the API including running tests from multiple locations. This will enable you to see how specific networks and geographies affect your API performance. You can also monitor performance and inspect the content being returned to your users, enabling you to identify issues with your API and the infrastructure supporting it.
We demonstrate how to use BlazeMeter API Monitoring to give the customer view of APIs being managed in Layer7 API Management in a few easy steps.
Layer7 and BlazeMeter API Monitoring Integration:
Step 1: In the Layer7 API Developer Portal, click on the "Add API" button in the top right corner
Step 2: Choose a Swagger file – in this example, I'm using a Swagger file for the Strava API
Step 3: Make desired customizations, or use the default settings
Step 4: At the bottom of the page, there is a custom field called "Monitor with BlazeMeter" – go ahead and set this to TRUE. When this is complete, click "Create"
Step 5: Back on the Layer7 API Developer homepage, you'll see that I now have the Strava API listed
Step 6: Now switching gears and taking a look at the BlazeMeter API Monitoring dashboard, click "check for new APIs" and "run" – and viola! The BlazeMeter and Layer7 integration is running by checking for all of the APIs that have been added to the Layer7 API Developer portal that have "Monitor with BlazeMeter" set as true.
Step 7: The new API I added (Strava), is now on the BlazeMeter dashboard and is now being monitored. We can now see the success rate so far as well the average response time.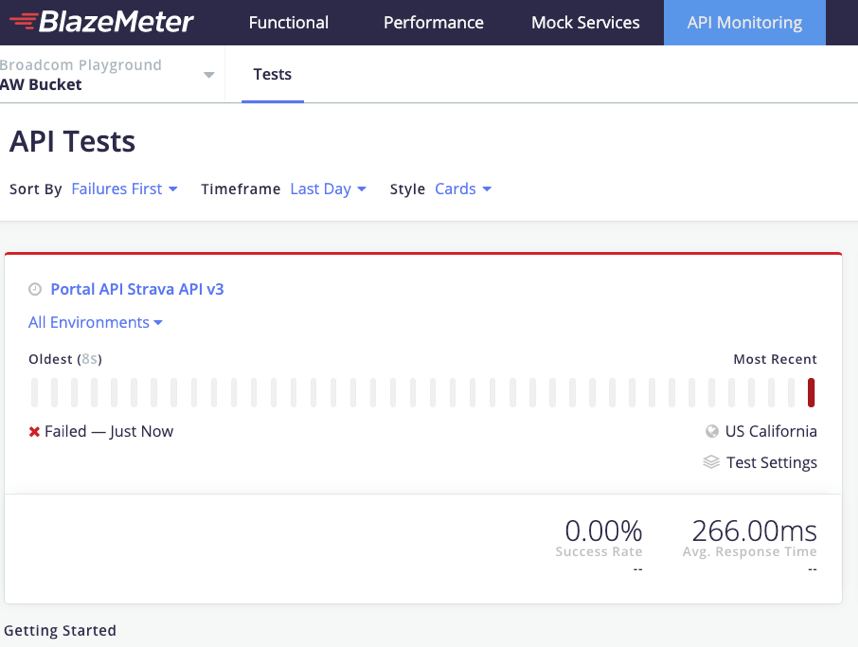 That's all! Prefer video instructions? In this short video I walk through each of the steps and demonstrate how easy it is to enable API monitoring for your Layer7 APIs. By monitoring your APIs, you'll be the first to know how your APIs are performing and responding in order to ensure the best possible customer experience.
To get started with BlazeMeter, just enter your URL in the box below. You can also learn more by signing up for free to the BlazeMeter University.