Learn Advanced JMeter for Free from the JMeter Academy
In June 2017 we launched our free online JMeter academy, where aspiring JMeter users could learn Apache JMeter™ for free from a friendly one-stop portal. The JMeter academy has been a huge success, with thousands of enrollees completing the course and improving their load testing capabilities.
But the JMeter academy also offers developers who already know JMeter a chance to get better at performance testing. The JMeter academy also has an advanced JMeter course, where developers can learn to create more sophisticated JMeter scripts, with more complex JMeter scenarios, and by using more advanced JMeter elements.
Sign up for the second course, and learn about:
1. Running JMeter from the CLI
How to run JMeter from the command line. This part explains why it is important to run your load tests from the command line, how to do it and how to view the results.
2. SetUp and TearDown Thread Groups
How to setUp and tearDown thread groups. This part shows how to implement these steps at the beginning and end of your load tests.
3. Logic Controllers
The While, If, Runtime, Random, Module and Interleave Controllers. This section will explain when and how to use each controller in your scripts.

4. XPath Extractor
How to use the XPath Extractor. This part explains the XPath Extractor's functionalities and compares it to the RegEx and JSON Extractors.
5. BeanShell + JSR223 Elements
Learning the Beanshell and JSR223 elements. This part will explain how to use BeanShell and Groovy scripts to your scenario and when to use each one.
6. Pacing: Controlling RPS, Arrival Rate
Implement Pacing in JMeter. In this part you will learn to pace in JMeter by controlling RPS or adjusting the arrival rate.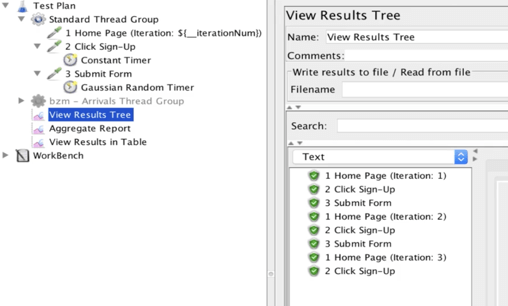 7. Using BlazeMeter to Do More With JMeter
Run your JMeter tests in the cloud. Learn how you can use BlazeMeter to run distributed testing from different places and to analyze and share your test results.
Once you've finished the course you will be able to run more complicated performance tests with JMeter, better suited to your testing needs. To try out BlazeMeter for free, just put your URL in the box below and your test will start in minutes. Or, request a demo.
Still hungry for more testing tips and hacks? Stay tuned for the following course about Continuous Integration, coming soon.