Creating and Running GUI Functional Tests in BlazeMeter
GUI Functional testing could be performed either manually or with the help of automated tools. There are many test automation tools that have been designed for GUI Functional Testing, Selenium is the most popular one today.
One tool for automating GUI Functional Tests is the BlazeMeter Chrome extension. The BlazeMeter Chrome Extension is a free tool that enables you to record, browse, upload, and run your testing scripts. The Chrome Extension supports recording JMX, JSON or YML files, for running in JMeter, Taurus or BlazeMeter as well as both JMeter and Selenium scripts, automatically and simultaneously.
You can simplify the process of creating GUI Functional tests by recording your HTTP/S requests and saving them into yaml format.
How to create a YAML recording via the BlazeMeter Chrome extension
Let's start the testing process.
After you install the Chrome extension in your browser - click on the [Start recording] button.
Then you can either save each step as a separate action or perform some scenario and it will be saved in one action.
Click [Stop recording] button to stop your test.
Open extension and click [Save] button. Save file in YAML format.
Running your GUI Functional Tests in BlazeMeter
After your YAML file has been created you can load it right into the BlazeMeter Grid GUI Functional tab:
Just click on the [Create test] button in the [Functional] tab and select [GUI Functional Test] option.
Then you need to click on the [Upload script] button and select yaml file from your PC. After your file is uploaded and the validation process is completed, you will see the following screen:
You can now perform the following actions in the left section of the test workspace:
Edit project; edit report's name; edit description; send email when test is done toggle button.
Duplicate, delete, move test.
Add schedule in the Scheduler popup.
Run test
On the [Configuration] tab user can:
Browse files to test
Add Shared folders to perform test.
Delete/Download file.
Select location.
Change configuration parameters
YAML script example:
# Script generated by Blazemeter Chrome Extension



modules:


  

nose:


    

ignore-unknown-actions:

 

true





execution:




-

 

executor:

 

selenium


  

scenario:

 

010901-Selenium


  

iterations:

 

1


  

capabilities:

 
    

browserName:

 

chrome





scenarios:


  

010901-Selenium:


    

generate-flow-markers:

 

true

 
    

headless:

 

false


    

timeout:

 

60s


    

think-time:

 

0s


    

requests:


    

-

 

label:

 

Test


      

actions:


      

-

 

go(http://blazedemo.com/)


    

-

 

label:

 

select From


      

actions:


      

-

 

selectByName(fromPort):

 

"Boston"


      

-

 

clickByName(fromPort)


    

-

 

label:

 

select To


      

actions:


      

-

 

selectByName(toPort):

 

"Berlin"


      

-

 

clickByName(toPort)


    

-

 

label:

 

click Find


      

actions:


      

-

 

clickByCSS(input.btn.btn-primary)


    

-

 

label:

 

click Choose


      

actions:


      

-

 

clickByXPath((//input[@value='Choose This Flight'])[5])


    

-

 

label:

 

click Purchase


      

actions:


      

-

 

clickByCSS(input.btn.btn-primary)



Example of changing configuration:
For instance you can add additional browsers into the test by adding one more executor (on paid plans) (e.g. browserName: firefox) to the [execution] section.
- executor: selenium
scenario: 010901-Selenium
iterations: 1 capabilities:
browserName: chrome
After the configuration is prepared - click [Run test] button. The following screen will be displayed:
Understanding GUI Functional Reporting in BlazeMeter
After the test is finished you can see the following tabs and options:
To switch the view between sessions click on the [Search for a session] selector in the top right corner of the report's header. And choose specific browser session.

Also you can select Reports - > Show all reports function - and you will get a new list with all performed launches and tests.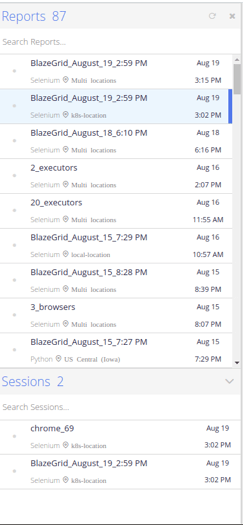 Now you can select specific browser or Taurus session from the [Sessions] dropdown.
Let's discuss all these reports in more detail.
This report shows the header with Project and Test links, Test name and multiple dots dropdown with Share Report / Clear Cache / Delete buttons. Also there is Select field with available browser sessions.
Main section of the details tab has Video / Waterfall / Logs / Metadata tabs. Video tab consists of the video itself and its scrollbar. Also there is an additional block with all the recorded steps (which user created during recording the yaml file), divided into css elements.
By clicking on each element - the video changes its position right on this step in the record.
Waterfall tab contains details of http requests for each recorded step of the test.

Logs tab contains different log files to give all around data about the performed test.
Metadata tab displays configuration details of performed test.

Summary screen includes report statistics data and executed browsers.

On the [Reports] -> [Show all reports] data user could select specific browser or Taurus session. Browser session copies visually report's [Details] tab, but it doesn't have Delete and sessions selector options.

Re-running your test
You can perform one test several times and verify the results in the [History] tab which could be opened from Tests section or through Reports screen by clicking on the test's link in the header of the report.
In the [History] tab all launches of the test are available in the [TESTS] table, 'total' and 'passed' test cases statistics is displayed in the [TREND] diagram.
You can open and verify a specific test launch by selecting a certain test name in the [TESTS] table or by clicking on the statistical data in the diagram.
Before restarting the test you also can change the configuration in the [Configuration] tab.
To get started with running GUI Functional Tests in BlazeMeter go to www.blazemeter.com and start testing for free.