Introducing Scriptless Test Automation with BlazeMeter
Building automated tests for any application can face challenges: managing objects, coordinating execution and reporting, and authoring tests all pose hurdles that need to be cleared in order to automate our testing.
This can be exacerbated when the people who would have ideally authored the tests don't have direct automation experience or the skills necessary to build new automated tests. Sometimes the automation experts on the team who do have the skills don't possess the deep product knowledge necessary to understand what needs to be tested.
With BlazeMeter's Scriptless Testing, we address these gaps and make it simple to get automated quickly, while providing tools that allow testing efforts at a scale. Here's how.
Full Recording, Playback & Editing Capabilities
Using the BlazeMeter Chrome Extension, you can record an existing manual test or an entirely new scenario against your application, but instead of replaying the recording or downloading it as code, you can now send it directly to BlazeMeter to edit and improve in our Scriptless Editor, parameterize, componentize, and debug the scenario, then share and make it reusable across the entire team- before running it with several browsers from multiple locations.
Automatically Capture & Curate Page Objects
When you record a test the BlazeMeter Chrome Extension you will automatically record all of the relevant page objects from the application and add them to our Test Action Library from where they can be easily maintained from a central location, so if anything changes in the application it is simple to keep the library, and all of the tests, up to date.

Every object is recorded with all of the available locators, and BlazeMeter will automatically use the next Locator if one of them fails - making the tests more resilient and less prone to errors and false failures.

Objects in the library can then be used in any new test a user in the workspace builds, and it's easy to trace which tests are using which objects to keep maintenance easy.
Drag-drop Functionality to Create Automated Tests
Homegrown keyword & data-driven frameworks offer the ability to author automated tests without having to code scenarios by hand themselves, but these frameworks often require specialized
automation engineers to build and continually maintain them.
From our library of predefined Selenium actions, testers can now drag-drop to create new automated tests with BlazeMeter's Scriptless Testing- or alter existing recordings. No coding experience or scripting language knowledge is necessary to build ready to execute, easy to maintain, automated tests, quickly.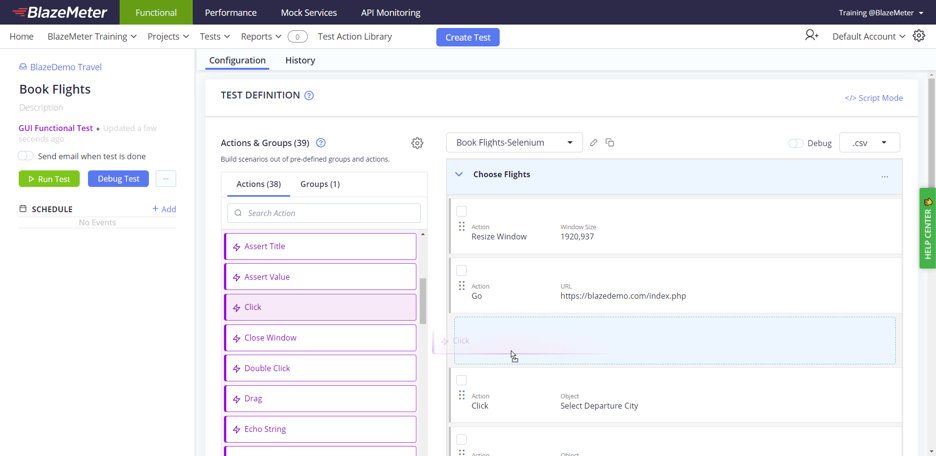 Create reusable components easily
With BlazeMeter Scriptless Testing you can now create groups from multiple test steps you already have. These Groups act as components, building blocks that can be used to build more complicated tests more quickly- and are then available to the entire workspace, and you can reuse them in other tests, as well as share them with other users. Like Objects, groups are centrally maintained with a full revision history, so when a common reusable component changes, you don't need to maintain every test case individually.
Debug tests visually directly inside BlazeMeter
Part of the development of any functional test is verifying its accuracy. With BlazeMeter Scriptless Testing you have access to a full debugger directly inside the platform, so you can easily verify changes to your tests with a short feedback loop.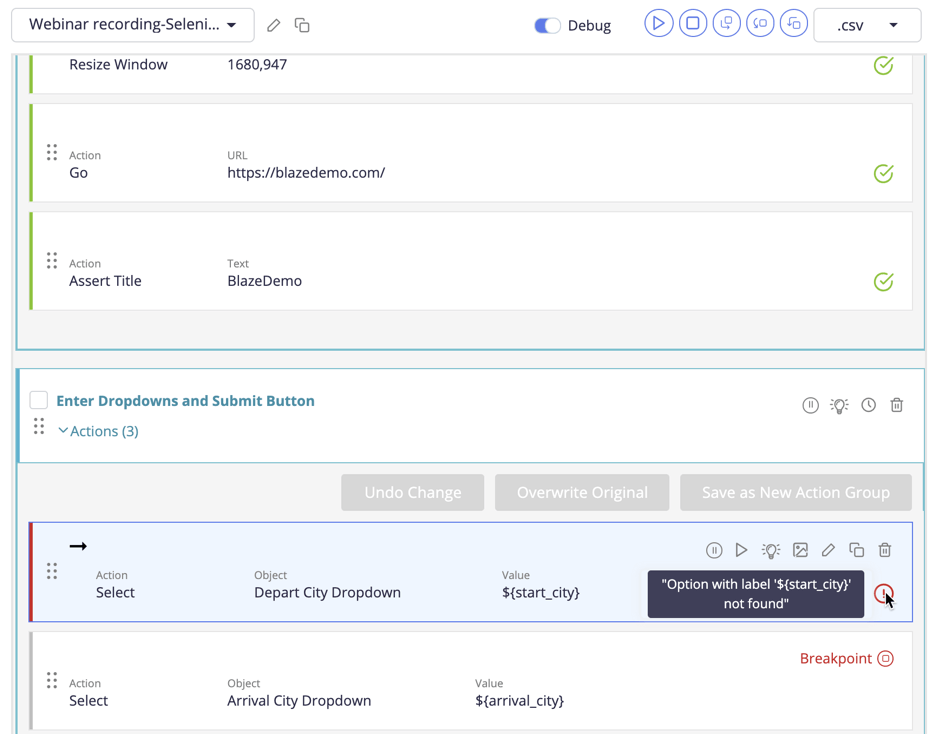 Build Advanced Tests
BlazeMeter Scriptless Testing allows you to create advanced tests that verify all of your application behavior. You can use conditionals, loops, drive your tests with external data, and even use custom code to do all of the testing and verification of your application.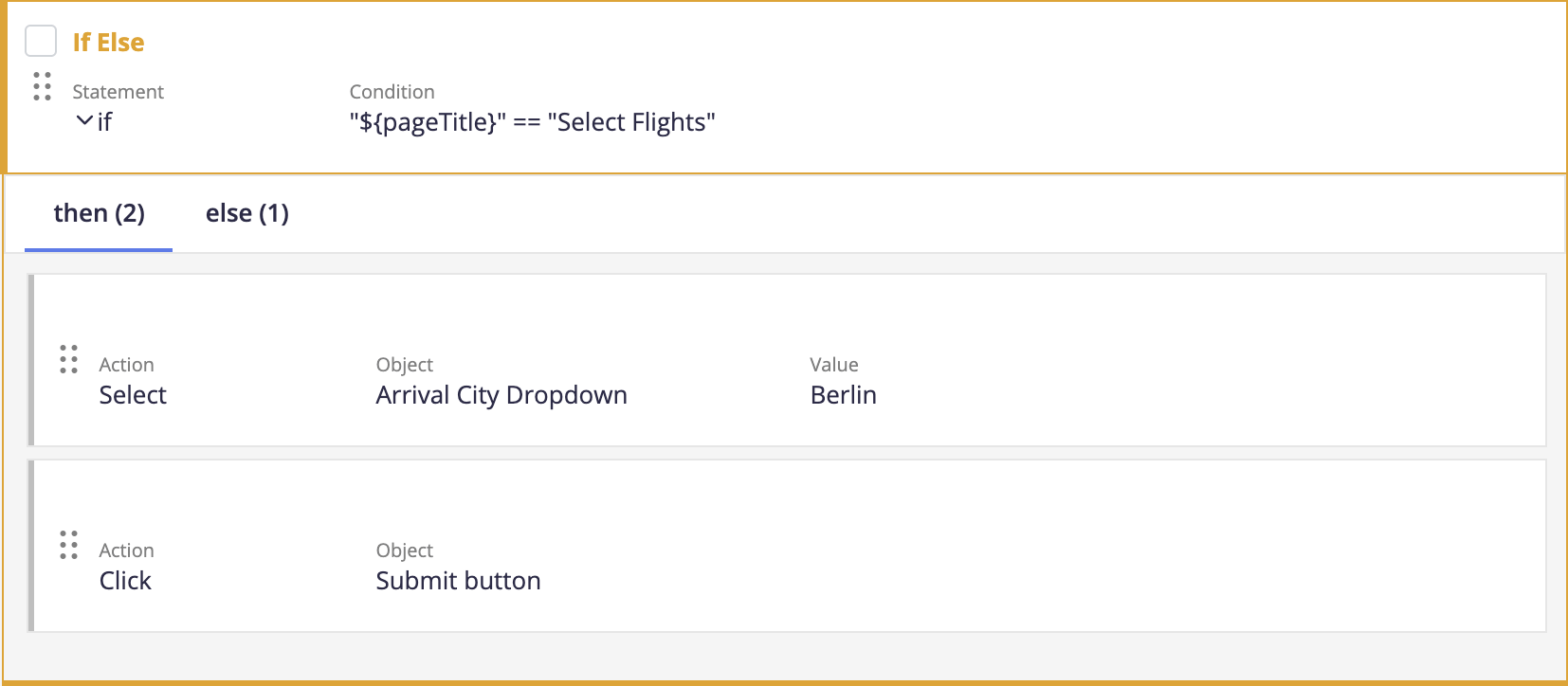 Execute Tests and Share Reports, No Configuration Required
Of course, like any test run on BlazeMeter, configuring browsers and locations is very easy, and BlazeMeter Scriptless Testing still gives you the same familiar detailed functional test reports, with full session logging, step execution details, and video playback to enable quick root cause analysis and resolution of issues.

Get Started with Scriptless Test Automation
BlazeMeter Scriptless Testing is all about making it easier to build maintainable automated tests. We recognize that tests don't live in a vacuum - they need to be designed, they need to have data and environments prepared for them, and they often have dependencies that need to be mocked. It's also important that we trigger these tests, and extract their results easily from a build pipeline. Today, BlazeMeter makes linking these assets easier and provides an open platform where BlazeMeter Scriptless Testing can now be part of your full devops solution.
Join us for this webinar, to learn more about BlazeMeter's Scriptless Testing and how BlazeMeter can help you make that shift to quality.
Don't have a BlazeMeter account yet? Click here to get started for free or simply put your URL in the box below.