Load Testing Lessons to Learn from Black Friday 2016
Black Friday 2016 is over, and hopefully it was a success for most retailers and shoppers. Some retailers, however, experienced website crashes due to traffic spikes and surges that their infrastructure and software wasn't prepared for.
Let's look at some of this year's largest Black Friday crashes from all over the world:
Websites and Apps that Crashed under Consumer Loads on Black Friday 2016
USA: Macy's Website and Mobile App Crash Under Heavy Loads
Macy's, the largest US department store chain, which is shutting down its brick and mortar locations and directing its customers online, was unable to handle the Black Friday load on its website and mobile app, and crashed. Users were directed to pages stating the site was under heavier loads than usual and that pages were temporarily unavailable. These service disruptions triggered angry responses on social media.
"We are still taking a high volume of online orders, and we are working quickly to alleviate the delay issue, which we hope to have resolved shortly," explained Holly Thomas, a spokesperson for Macy's, in an email. At 18:15 she emailed again, stating "Our site was intermittently down, but we're back now."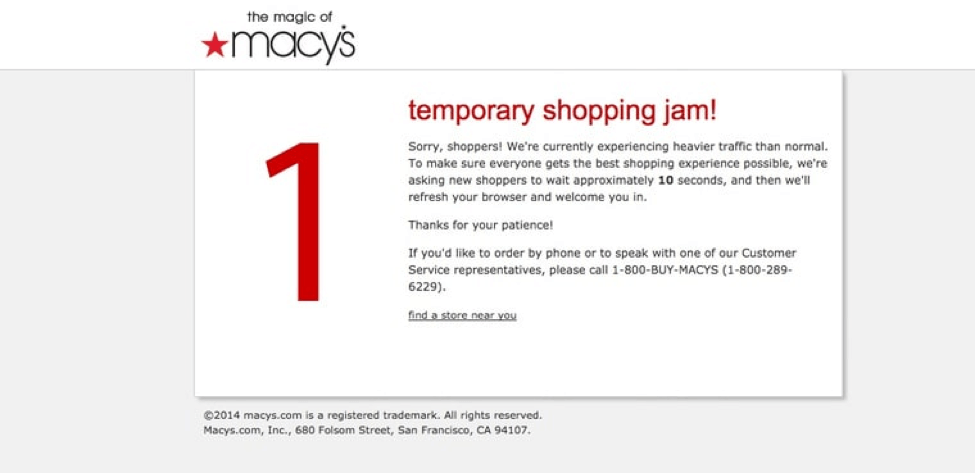 USA: Old Navy Website Delays and Crashes
On Cyber Monday, Old Navy, the giant clothes retailer, was unable to serve customers as its website delayed and crashed.
The Old Navy landing page read "Hmm, something's not right. We appreciate your patience, and we're working to fix the situation." Later a spokesperson explained they were working on fixing the issue and apologized for the inconvenience.
UK: GAME Customers Unable to Pay at Checkout Page

The British gaming store GAME was unable to process payments during Black Friday as its checkout page stuck and kept users on hold, with no option to continue to payment. Frustrated users turned to social media to vent their frustrations.
GAME spokesperson said "We're aware that there has been an issue with the checkout page of the website," and then updated when the website was back up.
UK: Quidco Website Server Goes Down
The British cashback website Quidco crashed during Black Friday, during its attempt to participate in Black Friday by encouraging British consumers to shop. The Quidco server went down due to heavy traffic loads.
The Quidco user tweeted "We're aware of site access issues affecting some members." and their homepage said "We are updating the site at the moment. Sorry for the inconvenience, service should be restored shortly." The Twitter user also kept tweeting hilarious tweets as a way for coping with the situation.
UK: Currys PC World Website Times Out
The British computer and electronics store advertised special deals for Black Friday. While the store expanded its staff to deal with Black Friday demands, online customers experienced long loading times and webpages timing out. Unhappy customers turned to social media to express their dissatisfaction.
South Africa: Takealot Website Crashes Due to Higher than Expected Traffic
Taekalot, one of South africa's largest e-commerce websites, crashed during Black Friday due to high surges in Black Friday traffic.
The webpage stated the site is temporarily unavailable. Chief Marketing Officer Julie-Anne Walsh said "We are aware of the problem and our technicians are attending to it. Despite the fact that measures were put in place for the site to withstand at least five times the expected amount of traffic for our Blue Dot Sale, interest in the sale this year has far exceeded our expectations, causing the site to crash." Consumers were encouraged to follow the company's announcements on social media so they knew when their technicians finished fixing the problem.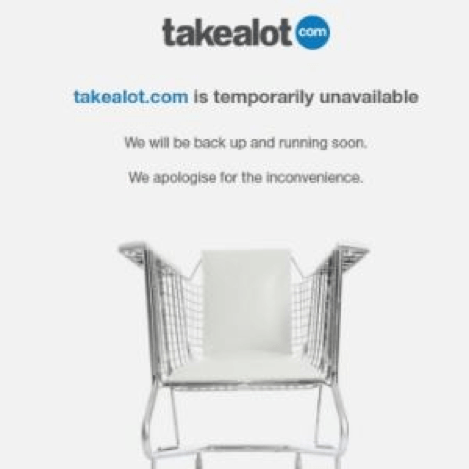 South Africa: The Foschini Group Websites Crash
Multiple Foschini Group websites went down during Black Friday, due to unanticipated high traffic.
Robyn Cooke, Head of eCommerce at The Foschini Group said: "TFG e-commerce has experienced massive Black Friday traffic to all its sites. We are aware that some of our customers have struggled to connect to our sites today. It is not uncommon for ecommerce sites to go down and up on big retail days." and then stated the group was addressing the issues and that customers can shop.
What Can We Learn From These Critical Website Performance Outages?
Black Friday preparations involve a lot of work: determining business goals, producing enough products, marketing sales campaigns and organizing logistics. However, all of this hard work could go down the drain if the infrastructure and software that enables Black Friday shopping - crashes.
Fortunately, dealing with Black Friday loads isn't difficult. Here are some Black Friday preparation tips, which you can read more about here.
Plan and Run Different Kinds of Performance Tests
The good thing about Black Friday traffic spikes, as opposed to other kinds of heavy loads, is that they can be anticipated even a year ahead of time. This gives you plenty of time to determine business goals, and then plan the tests you need to run to achieve them.
- Load Tests - for determining system behavior under an expected load
- Stress Tests - for understanding capacity limits
- Soak Tests - for examining abilities to hold a continuous expected load
- Spike Tests - for learning the abilities to hold a heavy load that was abruptly and quickly generated
- Isolation Tests - a repeated test for examining if a known and detected system error or issue previously detected by the same test, was fixed
Getting to know your system's abilities from different points of view, is crucial in preventing high volumes stressing your system. This is especially important if you're mobilizing your customers to online locations, like Macy's.
Bring Your System into Load Failure and Determine Critical Resources
Even if your system can handle your goals, it's important to bring your system into failure so you can determine what fails, when and how. Determine your critical resources and weak points, set up alert monitoring dashboards for these issues and follow them.
These preparations are important for the cases when traffic exceeds your expectations. Takealot prepared and tested for x5 the expected amount of traffic but still failed. Knowing in advance where their system would break could have helped them cope with the situation once they saw a the huge rise in the number of visits to their website.
Create and Simulate Real World User Experiences
Your users' behaviour should be in mind when creating website load tests. On Black Friday, the main stress is put on sales pages and checkout. Therefore, it's important to ensure those areas in particular are bottleneck-free. GAME's website handled most of the load, until the most critical part - payment. Strengthening that part in advance could have prevented the crashes they experienced on Black Friday. It's also important to load test the complete stack, including surrounding infrastructure and software.
Set Up Back-up Servers and Locations
While humor is a good way to deal with problems, like Quidco did, it's preferable to deal with crashes by setting up backup servers and databases, and prepare a clear workflow for switching over to them.
Plan and Implement Continuous Integration (CI), Continuous Delivery (CD) and Continuous Testing Methodologies
Don't wait for Black Friday or other events to load test. Implement Continuous Integration, Development and Testing strategies in your development process, to ensure code changes don't affect your user experience. By load testing earlier in the process, you can ensure you have the time and resources to fix what needs to be fixed and always be prepared. There is no need to accept Foschini Group's statement, that websites going down is a thing that happens on busy days.
Prepare Your Website and App for Your Next Big Traffic Spike
Use open-source tools like JMeter, Selenium and Jenkins, enhanced by CA BlazeMeter and to make yourself load-testing smart. It's completely possible to prevent the failures, losses and bad PR that come with crashing websites. and ensure a flawless shopping experience for your customers, and minimum work under pressure for your developers. Start preparing for Black Friday 2017, now.