How to Pause and Resume Ramp-Ups
When load testing, we want our tests to be flexible. Let's say you want to ramp-up to 100,000 users within 5 minutes. As best practice, we strongly recommend you monitor your servers (target servers) during your load tests to see how they handle the load.
Now let's say that during the ramp-up, while monitoring your servers, you noticed that your servers are under a heavy load. In this case, you probably want to pause the ramp-up, configure changes in the server and resume the ramp-up.
Unfortunately, JMeter doesn't enable that. When testing on JMeter, thread groups are configured to loop through elements and execute test plans completely. The only way to configure changes is to stop the test, change what you need to and then execute the test again from the beginning.
BlazeMeter's Concurrency Control Feature
BlazeMeter has a feature, available in its fre e version, that enables users to pause and resume the ramp-up. This feature, Concurrency Control, lets users pause the ramp-up if they discover a problem with their servers.
During this pause, the test will not stop. It will only pause the number of users added. During this time, you can check the status of the servers and solve the problem. When you are ready to continue with the ramp-up, click 'resume' and it will keep running from where you paused through the steps you defined.
The Concurrency Control feature is operated through a button that automatically appears on top of the BlazeMeter screen when jmx files contain ctd. The button will show the number of users and the 'pause' and 'resume' options.
Using the Concurrency Control Feature on BlazeMeter
1. Acquire JMeter Concurrency Thread Group
Use the JMeter plugins manager to install the Concurrency thread group.
- Go to available plugins
- Check the "Custom Thread Groups" checkbox
- Click on "Apply changes and Restart JMeter"
3. Configure the concurrency thread group to run as you want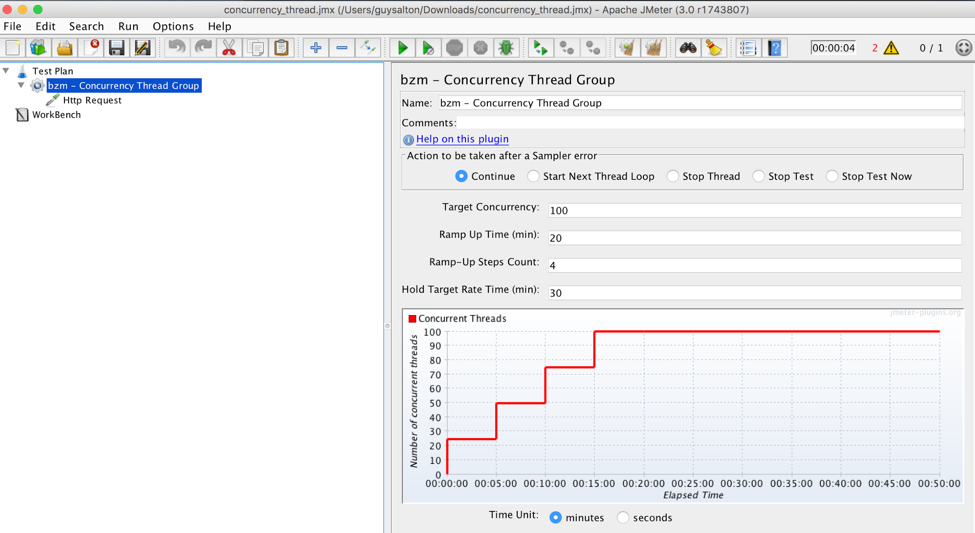 4. Create and Run a JMeter Test in BlazeMeter and upload the JMX script you created
5. Use the Concurrency Control button to Pause/Resume the ramp-up
Congratulations! You now know how to pause and resume your ramp-up.