BlazeMeter Presents V4: the Next Step in the Shift Left Revolution
The performance testing revolution has been progressing for a long time now. Bolstering democratized testing has encouraged the movement from the performance COE to testing made and influenced by the individual contributor, the developer. Consequently, shift left has become possible: from testing big scale tests on production to continuous testing, in CI environments. This transformation has immensely advanced code quality, and as a result, product quality and technology innovation.
Shifting left performance testing has been manifested by shifting the use from proprietary testing tools to using open source tools, making testing easy, approachable and lightweight. This is true not only for startups or individuals. Tools such as Apache JMeter™, Selenium, Locust, The Grinder, Gatling and more have become the tools of choice for many companies worldwide - from small startups to big enterprises, to validate the performance of their systems.
We're proud to say we've been a part of this testing revolution and testing democratization process. Our core contributions to shifting left via open source have been triple: 1. Taking part in open source development of tools like JMeter. 2. Creating BlazeMeter, an easy to use open-source based performance testing platform. 3. Creating Taurus, an open source tool that allows developers and testing engineers to create and orchestrate tests from any open-source tool using a simple YML code.
Now we introduce the next step in our shift left revolution: BlazeMeter V4. BlazeMeter V4 is our known, accomplished and easy to use BlazeMeter, with Taurus integration. BlazeMeter V4 incorporates our two main beliefs for advancing shift left:
Testing more often - enabled by a BlazeMeter-Taurus integration. Taurus streamlines open source load and functional testing tools and simplifies the use of them, making testing more simple and widespread among developers and DevOps. In addition, simplified scripting and reporting and quick execution encourage agility and help developers shift left: developers can test more, and earlier in the cycle. This developer friendly approach establishes Taurus as one of the most valuable DevOps frameworks available.
Testing more easily - enabled by the new BlazeMeter test creation experience. One of the cornerstones of expanding adoption of tools from professionals to all, is ease of use. That's why we designed a new testing experience that is more intuitive, has less frictions and incorporates stronger capabilities.
BlazeMeter V4 introduces the following abilities:
Run More than 20 Performance Testing Tools
BlazeMeter now supports Selenium, Gatling, Locust and more, alongside the well-known JMeter. The support for all these tools under the same platform allows much higher collaboration between different teams. You no longer need to enforce a single tool for all. Instead, let each team use whatever tool fits its needs.
Our new test creation flow allows you to run any open source testing tool simply by uploading it to our platform. Once you run them in BlazeMeter, you will get reports and trends, allowing for better communication and giving all your teams a common base for discussion. The full list of supported tools can be found here.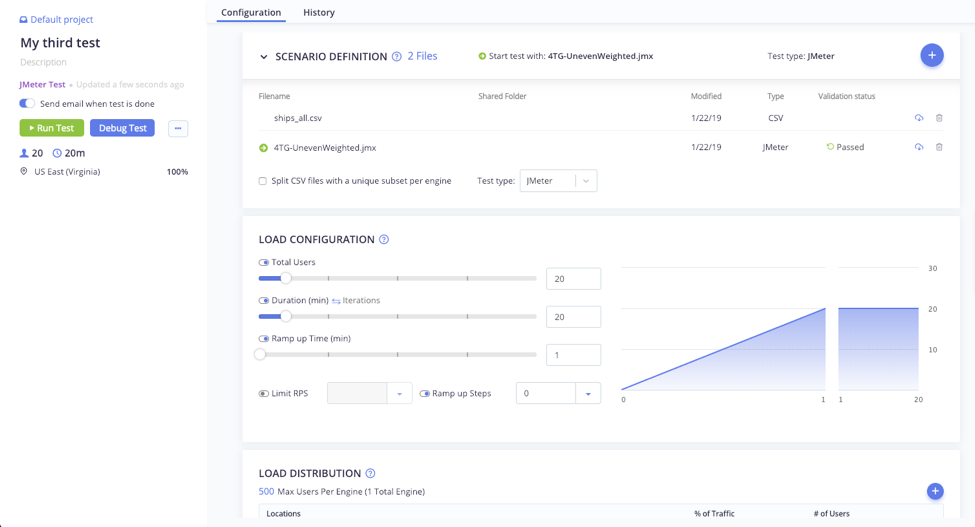 Keep Testing Like You're Used To
Run tests from your Taurus CLI, from the web GUI, using our API, using a CI server integration - Jenkins, Bamboo, TeamCity - or by system scheduling. Whichever way you and your team are accustomed to work, we enable it, making pipeline integration seamless and effortless.
Powerful RESTful API Test Builder Replaces Legacy URL Test
Our new URL test gives you a UI to easily build a complex testing scenario. If you enjoy JMeter's lovely UI you can still use it and upload your scripts to run it in scale on BlazeMeter, but you can achieve great results using our new test builder:
Select between Get, Post, Put, Patch, Delete, Options, Head and Connect http calls
Include query parameters
Define http headers
Create assertions on Text, Response time, JSONPath, JSONPath value, XPath or Regex
Extract data from the response and store it in variables. Use the variables in subsequent requests. Extraction can be done using Regex, JSONPath or XPath.
Define default address, global variables and global headers to be used in multiple calls
Define delay between calls
Single Test Now Supports Multi Location
Our users have been asking for it, and now we delivered it: Run a test from multiple geographical locations easily. Using our new UI, this now can be achieved in a single test, without the need to create and maintain complex multi test configurations. Simply add locations, configure the percentage of virtual users you'd like to see from each location, and run the test.
One Test Run Supports All Tools Together
Not only do we allow you to run tests on BlazeMeter using various testing tools, you can also combine them in a single, synchronised, multi test. If your teams scripted tests using multiple tools, and now you need to combine a test for the holiday season that utilises all these tests to a single test, no need for dirty conversions. Easily combine and run them together, to get your results in an aligned matter.
Easier, More Intuitive Slicing and Dicing of Results
After creating your test and running it in BlazeMeter, you probably want to view and analyze the results. You can now slide and dice your test results, even in big, complex tests that include multiple geographic locations and multiple scenarios. Just easily select the relevant location\scenario combination in the GUI and view the relevant results.
End User Experience Testing
Whether you're using JMeter, Gatling, The Grinder or other such tool, you're hitting your backend, testing how your infrastructure handles big load of concurrent hits. But what is the user experience at this time? How is the load on the backend affecting the experience on the web client? Will the page load at the same speed or will it be affected?
Now, with BlazeMeter, it's simple to find out: When configuring your performance test, you can add URLs you would like us to browse to and test. We will constantly do that in the background and present you with a HAR report of each such access, so you can trace metrics like:
How long it takes to fetch DNS information
How long each object takes to be requested
How long it takes to connect to the server
How long it takes to transfer assets from the server to the browser of each object
etc.
Plotting the page load speed on the timeline report provides an easy way to compare the performance of your GUI relatively to the load of the backend.
Additional Improvements to Single and Multi Tests
Ramp up steps can be defined in the GUI
Override configurations can be temporarily disabled
Graphs visually present the total number of VUs that will run in the test over time
Percentiles are now available in the timeline report for response time
Shift left your testing with BlazeMeter and Taurus. Get started with Taurus, here. To try BlazeMeter, just put your URL in the box below, and your test will start in minutes.