How to set up BlazeMeter two way integration with DX APM (formerly CA APM)
BlazeMeter is a Continuous Testing and Devops platform that integrates with over 20 leading open source solutions, and also includes integration with several leading commercial APM solutions including New Relic, AppDynamics , DynaTrace and DX APM (Formerly CA APM).
What is DX APM?
DX APM, formerly CA APM is one of the leading enterprise APM solutions on the market.
In this article we will show how a BlazeMeter performance test can integrate with DX APM and the DX APM performance data be incorporated into the performance test timeline report.
DX APM Configuration
Before creating the DX APM Credentials in BlazeMeter you should first locate the DX APM configuration details.
1. Sign up for a Free DX SaaS account here: https://learn.broadcom.com/dx-apm-saas-starter-edition
2. From the DX SaaS launch page click on the "DX Application Performance Management" open button to be navigated to the DX APM home screen. Make a note of the DX APM URL until the # - which will be required when configuring the Blazemeter integration. I.e. https://123456.apm.cloud.ca.com . In case you are using the older version of DX APM URL it should look something like: https://apmservices-gateway.saas.ca.com/123/apm/atc
3. The BlazeMeter integration requires an API token, to create the token click on the "Security" link from the left hand panel.
4. Click on the "Generate New Token" button
5. Enter a name for the token in the Label field and select the type "Public API" and click on "Generate Token"
6. Make a note of the generated token
DX APM and BlazeMeter Integration Types
When configuring a performance test to run with DX APM, you can choose between two types of integration:
See BlazeMeter data in DX APM is an outbound integration, which "decorates" outbound traffic with headers containing the test name, test step (label), geographic region, test engine IP and network emulation settings. This metadata enhances reporting of the test on the APM side. For example, test traffic will show up as business transactions in DX APM.
"Two way integration" adds an inbound integration that makes DX APM metrics available for overlay on the Timeline Report in BlazeMeter. Unlike previous inbound integrations, you do not need to know the list of relevant metrics before running your test and there is no need to update the integration if you make changes to your back-end infrastructure or app. Simply point BlazeMeter at your DX APM instance once and the impacted systems and metrics are dynamically selected and made available to you in the BlazeMeter UI during each test run.
In this article we will be demonstrating "Two way integration".
Configuring Two Way Integration with DX APM
To run a performance test with DX APM integration, navigate to the test configuration page and create a DX APM credentials.
1. Choose the Two way integration and from the drop down enter the following fields:
Configuration Name = Label for credentials
DX Security Token = Enter the token that was generated in DX APM (step 6)
DX URL = Enter DX APM step 2
Press the Validate button to confirm the URL and token are valid
2. Advanced Settings
Ensure the port numbers in the advanced settings are both configured:
For Saas users: 443 (both for DX APM Webview/Team Center and for metrix API)
For on-prem users:
for version 10.7 and older: 8080, 8081
for other versions:
for http users: 80
for https users: 443
Harbor Id should be left blank when connecting to the DX SaaS platform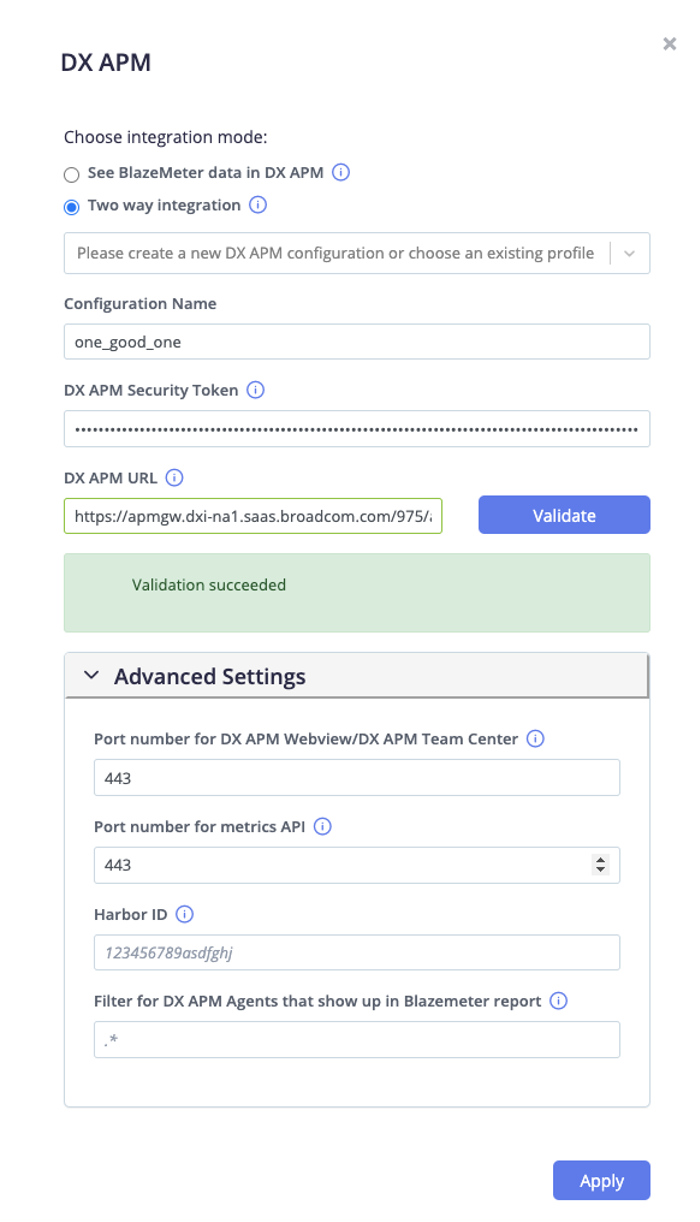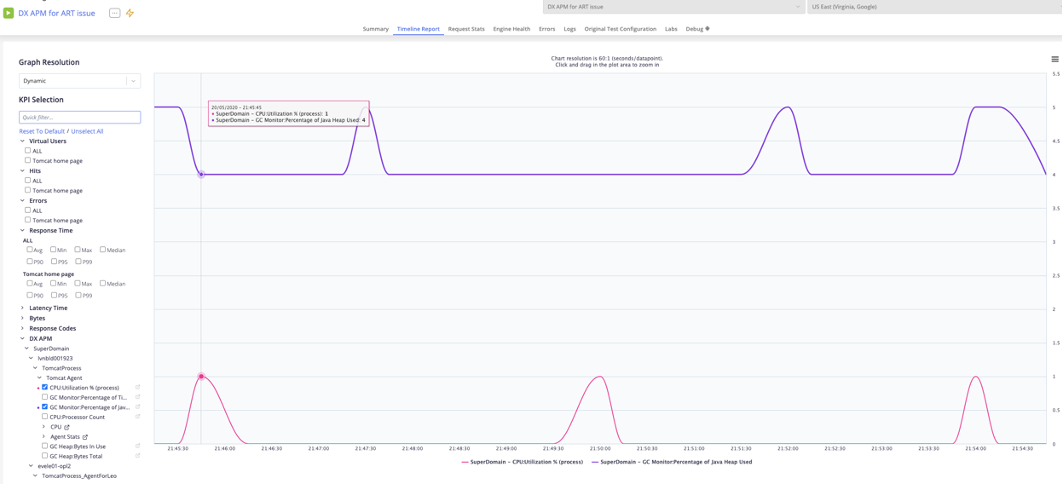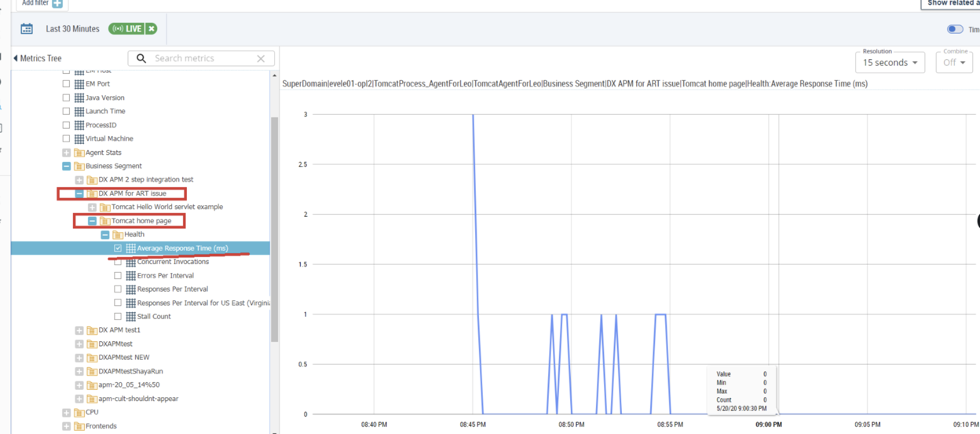 Ready to get started with running your BlazeMeter tests? Click here to get started, or just put your URL in the box below.